92 Ludlow Street
NY, NY 1000
(212) 254-9100
About the restaurant:
Named after a French World War II safe house, Hotel Chantelle is an eatery, parlor and occasion space situated in the always thriving south of Delancey segment of the Lower East Side.
Holed up behind a somewhat common veneer, the inside of Hotel Chantelle offers path to a 1940s Parisian-style bar, a housetop eatery and greenery enclosure with perspectives of the Williamsburg Bridge and an underground move sanctum that oozes no one important is watching vibe.
Lodging Chantelle's flexibility permits them to oblige a substantial mixture of occasions, including motion picture debut parties, philanthropy occasions, pop-up shops and corporate occasion parties.
Last week I had the honor of dining here, but don't be fooled by the name, as it is not a hotel but a restaurant! It was a great way to celebrate the end of NYFW, and to have a few drinks (we both needed it).
Upon entering the rooftop we were warmly greeted and seated to our table. I particularly loved the ambiance of the rooftop lounge. Here are the appetizers we started of with:
Appetizers:
Tuna Tartare Cigar (crisp wonton wrapper filled with raw sesame and soy marinated sushi grade tuna, wasabi dipping sauce).
"The presentation was perfect, it actually does looks like a cigar. The first bite into the cigar was everything. Hearing the crunch from the crisp wonton wrapper means it was perfectly cooked. I could taste the tuna with each bite; it was very flavorful. The wasabi dipping sauce was not needed, but it did help if you wanted some spice."
Jamón, Jamón (dried and cured thinly sliced Spanish ham, hung and served with tomato chili jam, smoked paprika dusted crisps).
"Okay, I do not even know where to begin with this presentation. I mean it looked so beautiful I almost didn't want to eat it, but just take photos and show it off. The Spanish ham was cured perfectly and it just melted into your mouth. Pairing the Spanish ham with the chili jam and the crisp added so many flavors; it just exploded in my mouth. I loved every bite."
Grilled Octopus (blistered tomato, capers, olives, diced crisp potatoes, pickled onions, parsley, grilled lemon vinaigrette).
"This grilled octopus was massive. I couldn't believe that this wasn't an entrée. The octopus was extremely succulent; it was grilled perfectly. How I knew it was grilled perfectly was the fact that it wasn't tough or chewy, but rather it melted in your mouth. The vegetables were a nice addition to the octopus as it added extra layers of texture, flavor, and acidity."
Tomato Watermelon Tower (sliced beefsteak tomatoes & rounds of seedless watermelon, crumbled feta, athena & balsamic vinaigrette).
"This salad is such a great summer dish; it is so fresh and colorful. The flavors go so well together. I am not a fan of tomato unless it is cooked, so me eating something with raw tomato meant that the dish had to be amazing and yes, this dish was amazing. I love watermelon and eating it with the tomato and the vinaigrette really brought the dish together."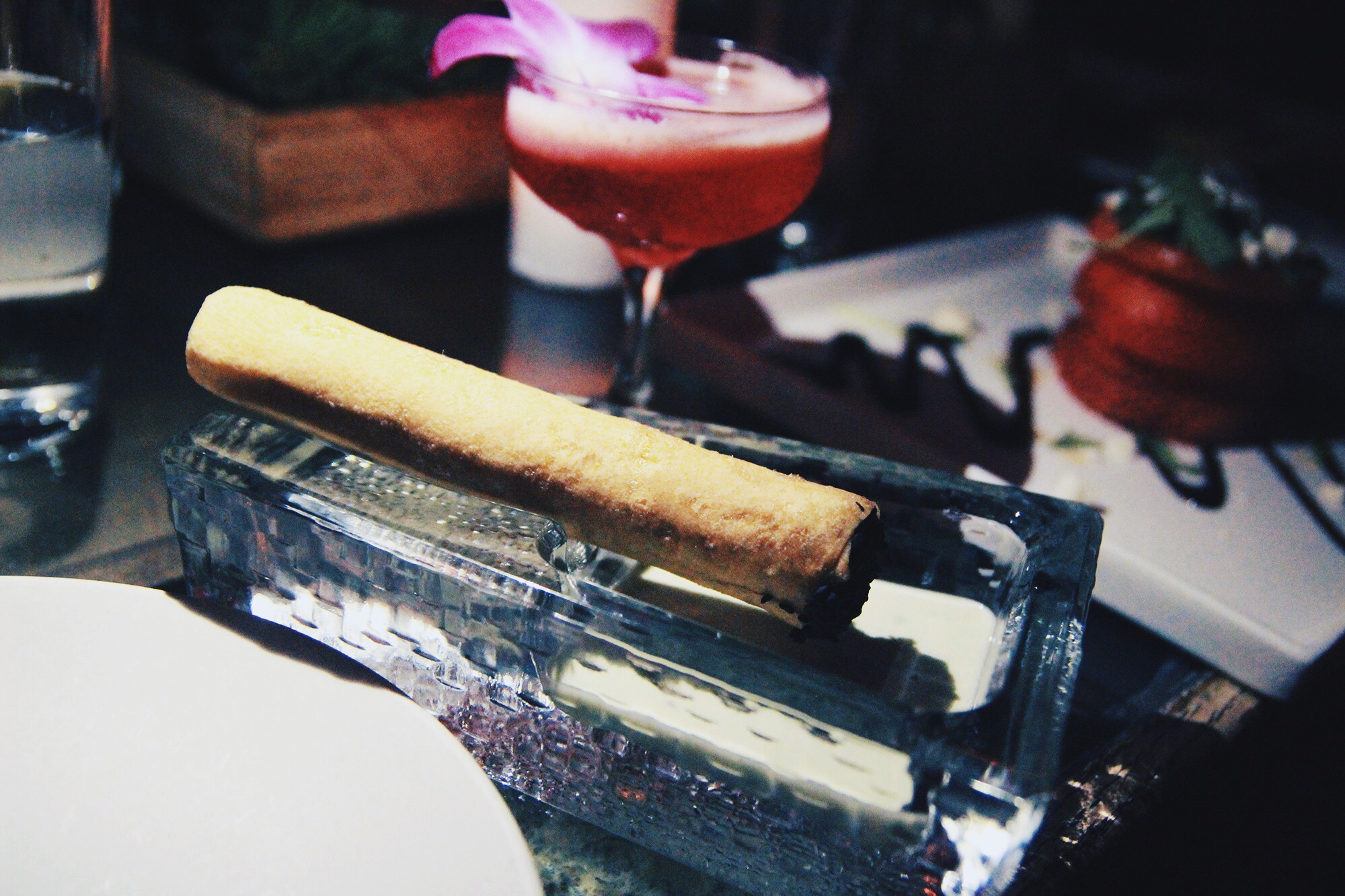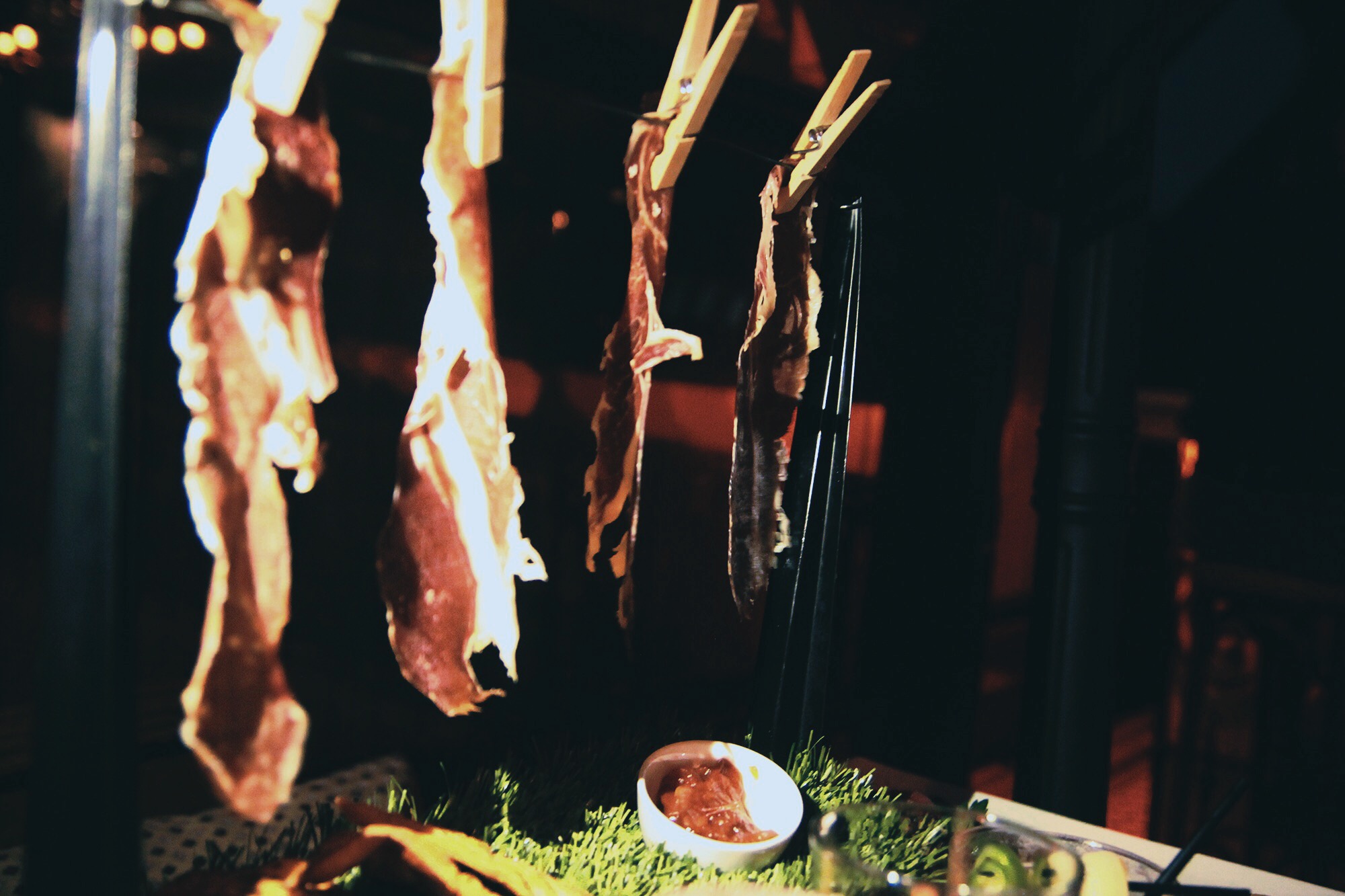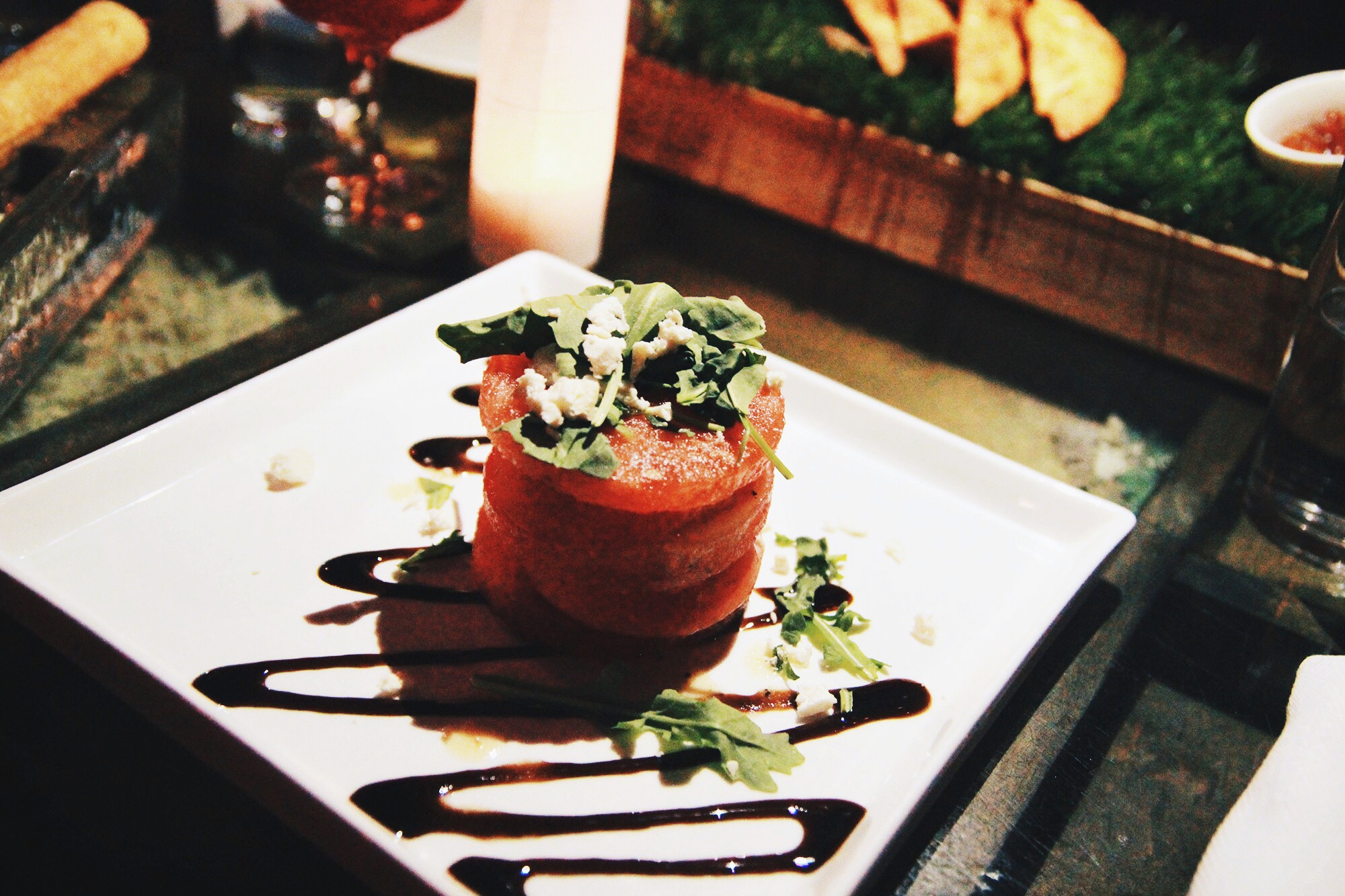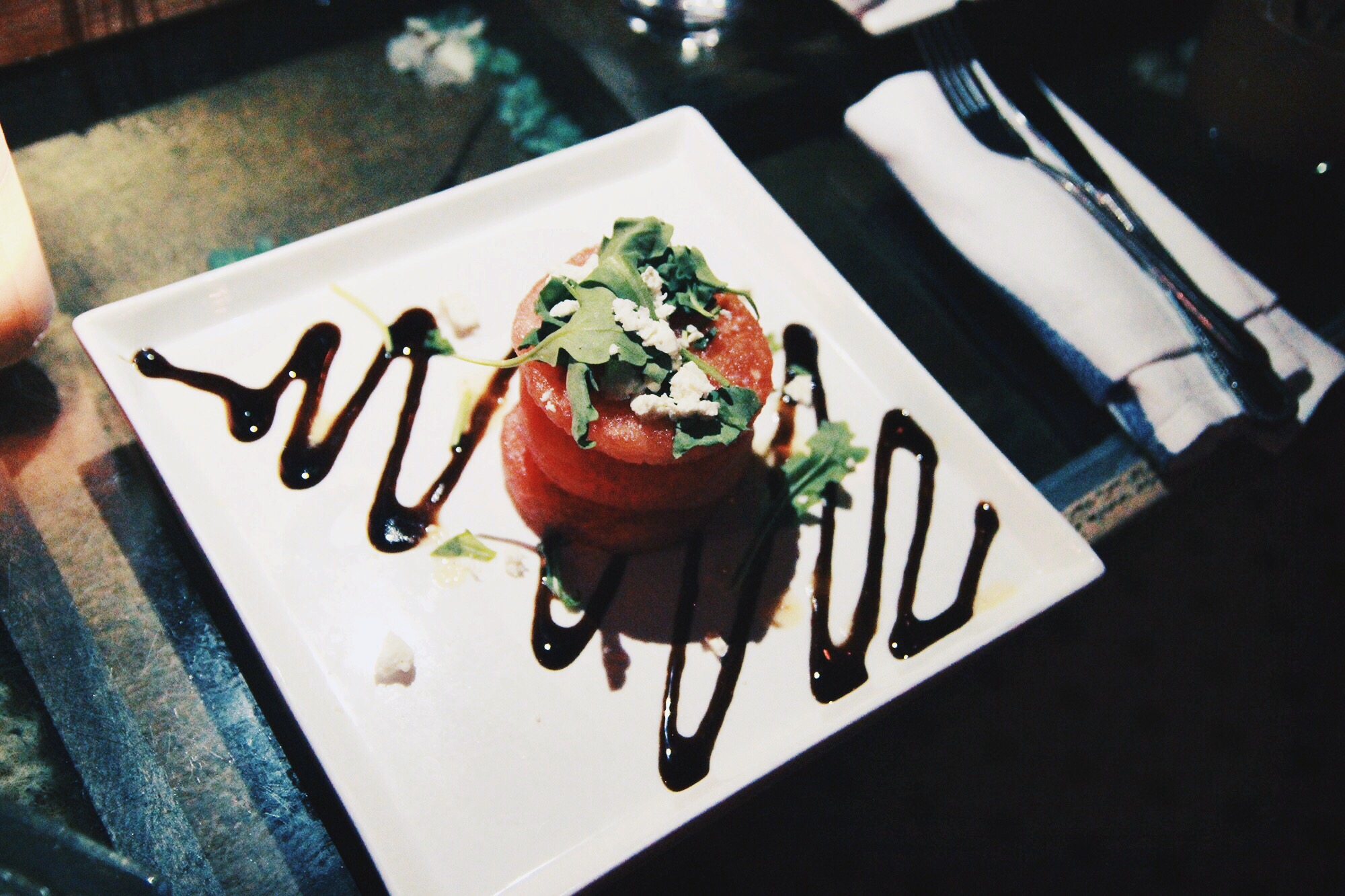 Entrée:
Pan Roasted Halibut (atlantic halibut, corn broth reduction, micro greens, dehydrated corn powder.)
"First of, the presentation of this dish makes it looks like the Halibut was swimming in a pool of water (corn broth) and it was beautiful. Kudos to Chef Seth Levin, for choosing this plate to showcase the entrée. The Halibut itself was nicely cooked. Halibut is a very delicate fish and can be overshadowed if seasoned too much. The corn broth worked very well with the Halibut, since it helped the fish from drying out. The Halibut soaked up all the deliciousness of the broth and made it taste like butter. It was perfection; a simple dish with explosive flavors."
Waffle Crusted Fried Chicken (waffle crusted fried chicken, topped with maple syrup cotton candy, served with pomme frites & chili syrup drizzle.)
"This dish brought out the kid in me! Waffle and cotton candy for dinner? I mean...did I die and go to heaven? I love fried chicken and this dish was everything I wanted for dinner. The waffle batter added so much crisp and sweetness to the chicken; it was mouth-watering worthy. The frites were the perfect side dish to this meal. It was seasoned to perfection and the maple syrup was the perfect dipping sauce for this meal."
Sides:
Roasted Mini Corn (shaved cotija cheese, lime-mayo, paprika dusted.)
"Corn+cheese=Everything. I don't think there is anything to be said about this except that you need to order it."
Blistered Shishito Peppers
It is not spicy to eat and a great side to munch on with drinks.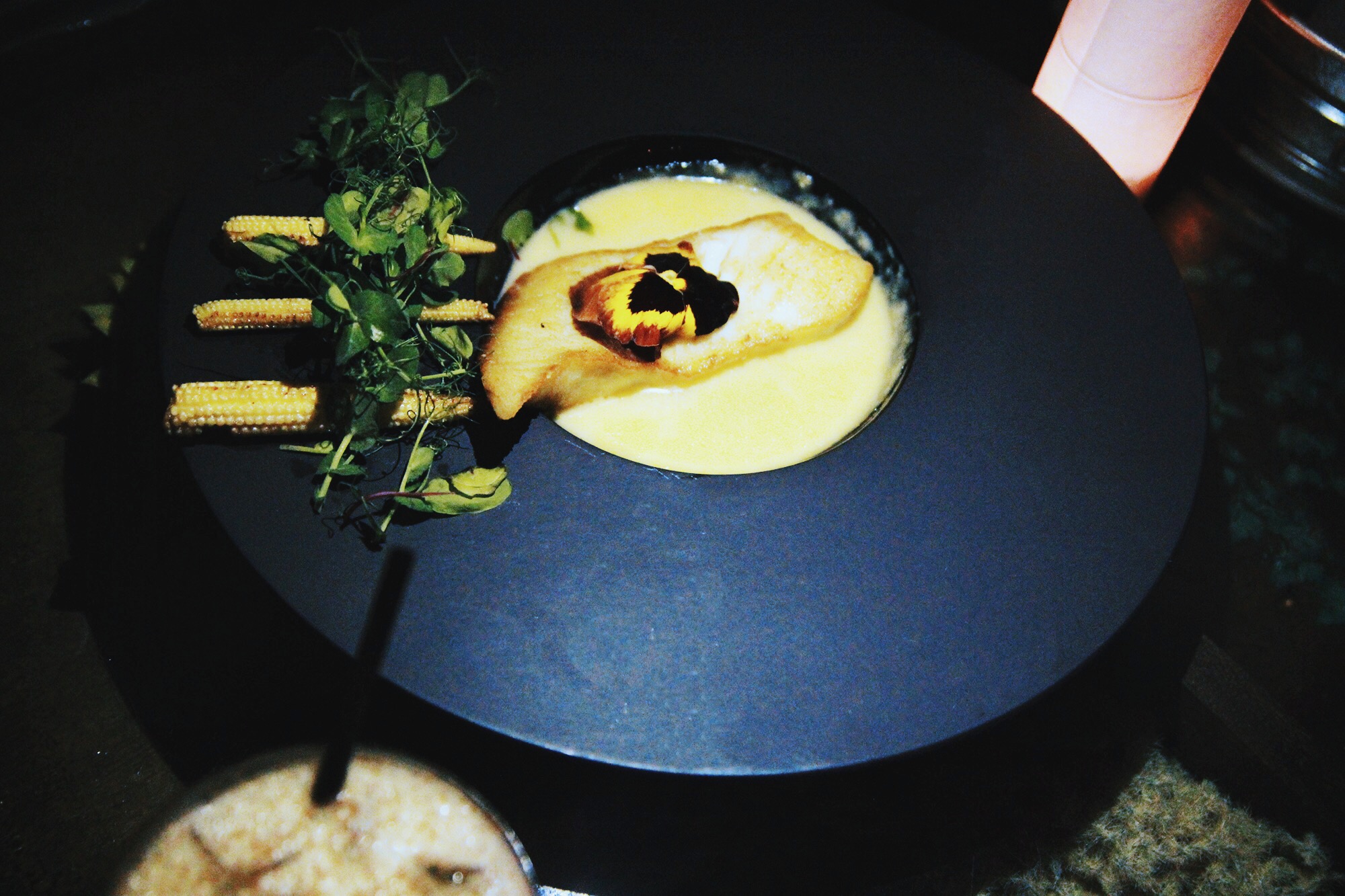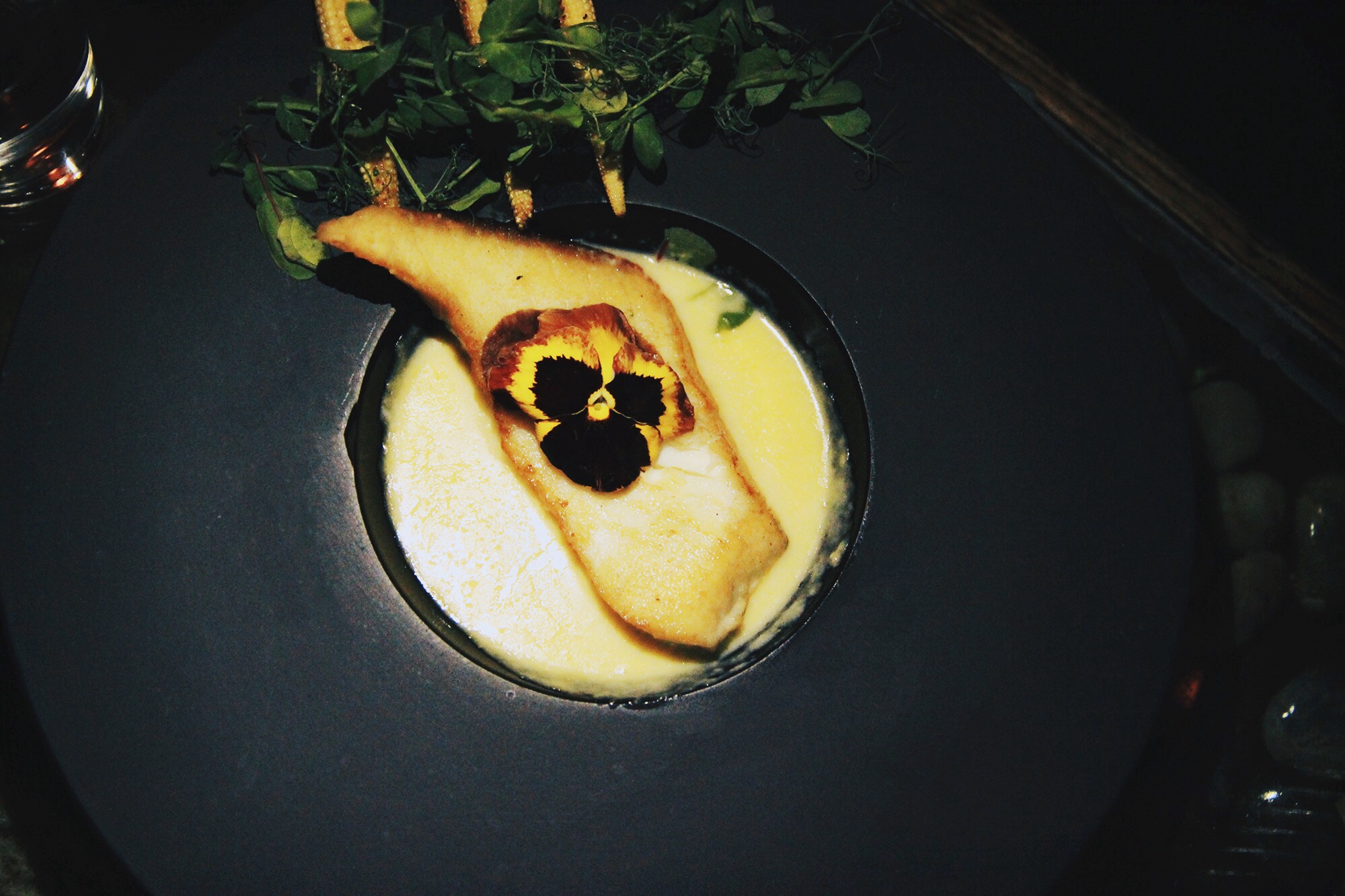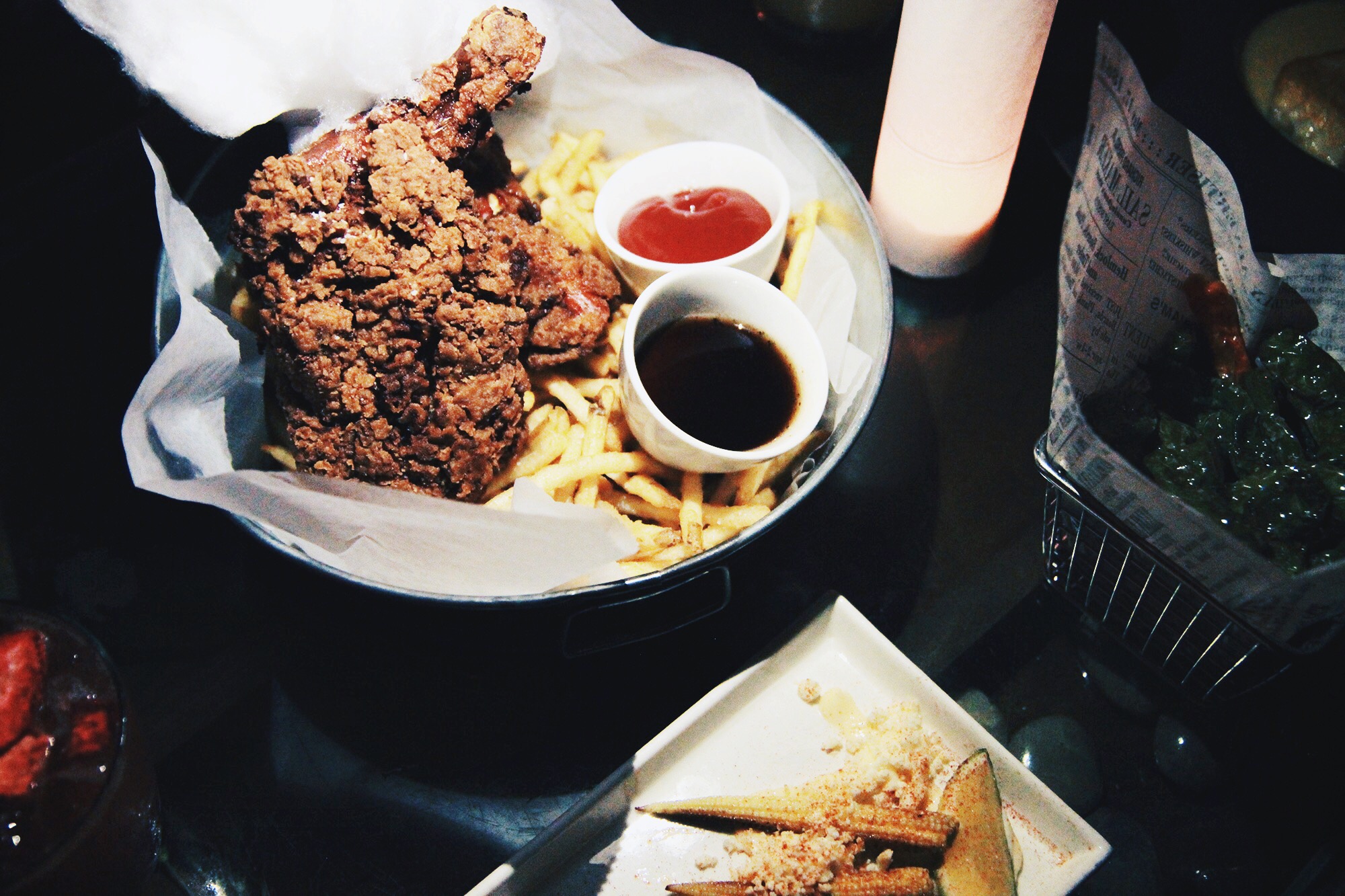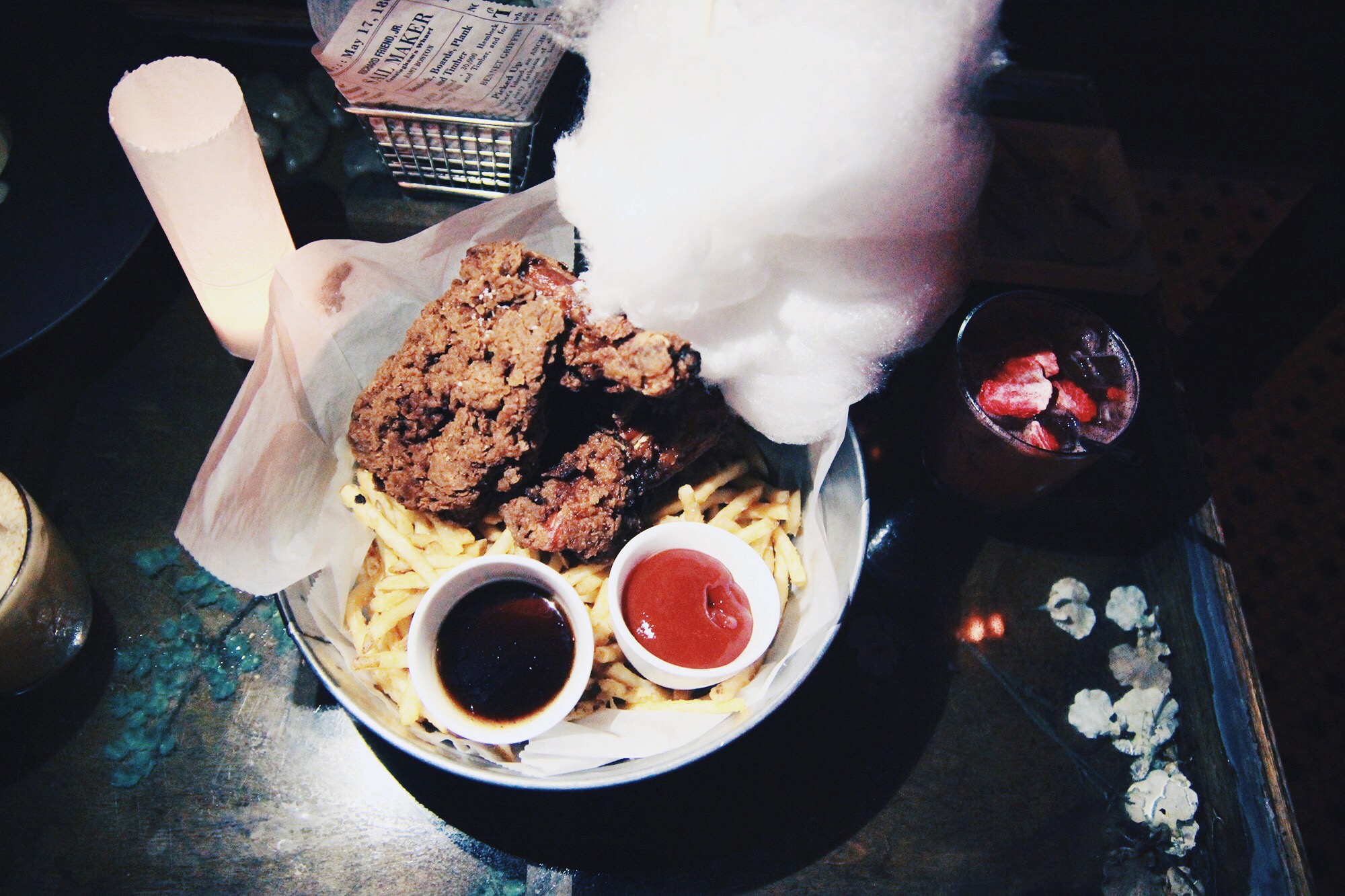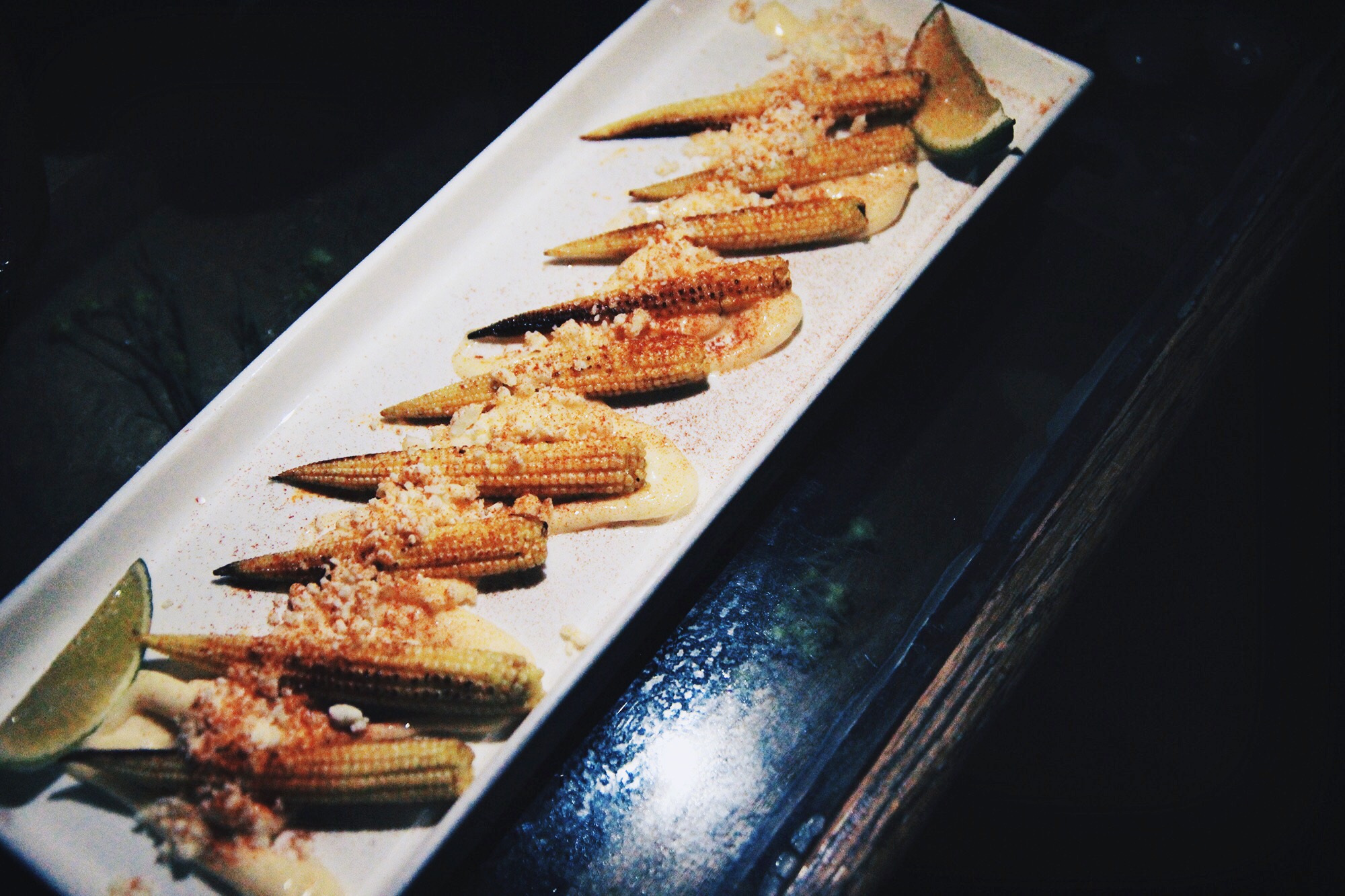 Desserts:
Chocolate Flower (chocolate dirt, brownie, ice cream)
"This dessert was too pretty to eat. The presentation of this was out of this world; so delicate and complex with flavors. The layers of ice cream, chocolate brownie, and chocolate "dirt" was life! Getting all of that in one spoonful is how it should be eaten."
Stuffed Cannois (stuffed cannois with maple infused mascarpone & ricotta, and fresh strawberry).
"The shell is crisp and dusted with powder sugar so sweet, which cracks open to give a softcream filling. I can eat a bucket of the filling, as it is light, sweet, and full of flavors."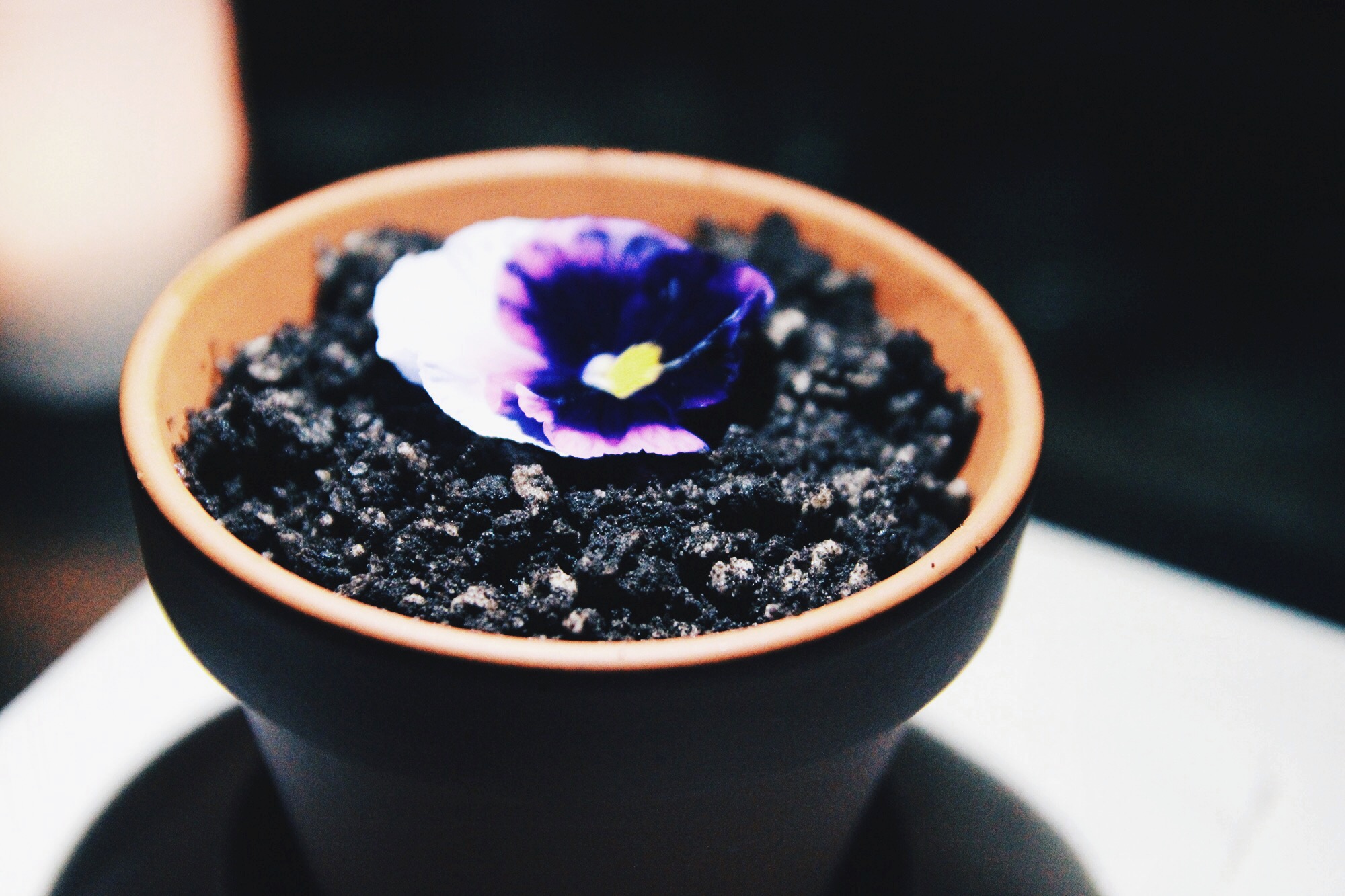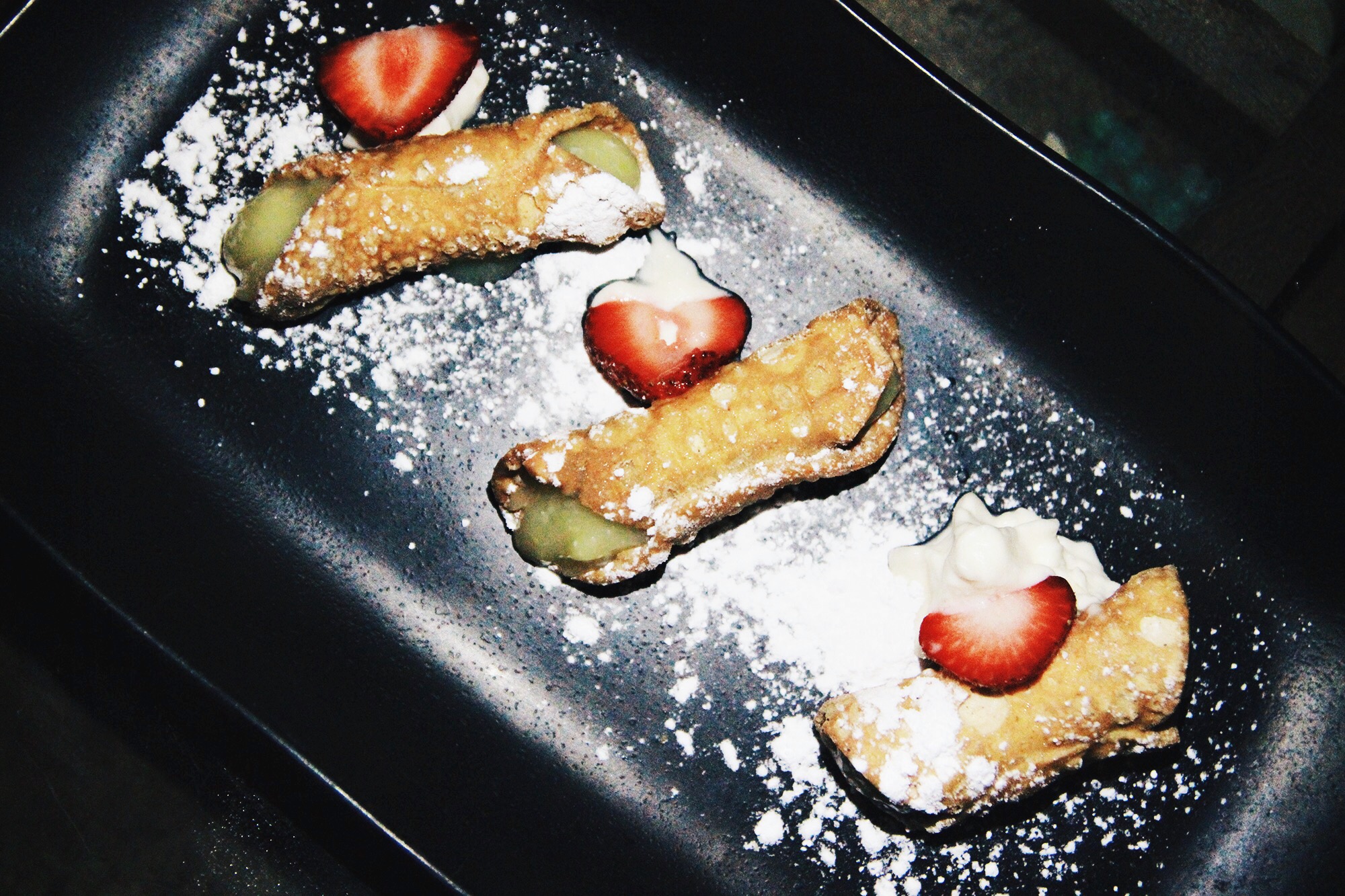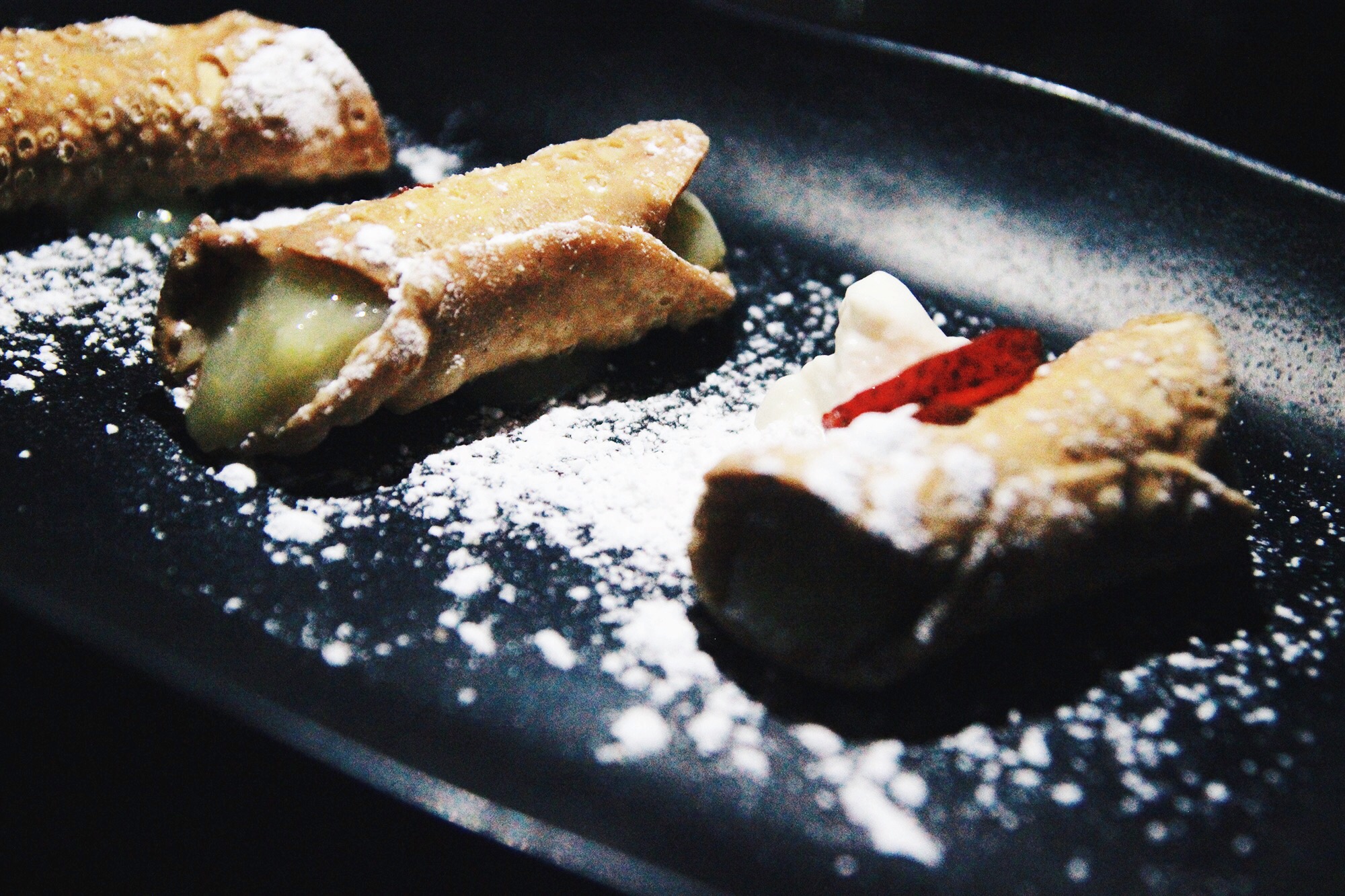 Drinks:
Pineapple Express (jalapeño-infused tequila, pineapple, pomegranate).
Kir Yvette (vodka, blackberry liqueur, lemon, sparkling rosé),
Essex Rose (spring 44 gin, st. germin, raspberry, ageve.)
Skinny Berry (veev vodka, balsamic reduction, strawberry).
Libertine (gin, cucumber, saffron liquer, lime.)
Smart Blonde (vodka, st. germain, limoncello, lemon)
Cain & Able (jack daniels honey, rye whiskey, raspberry, grapefruit.)
Gold Standard (russian standard, passion fruit, maraschino, ginger beer).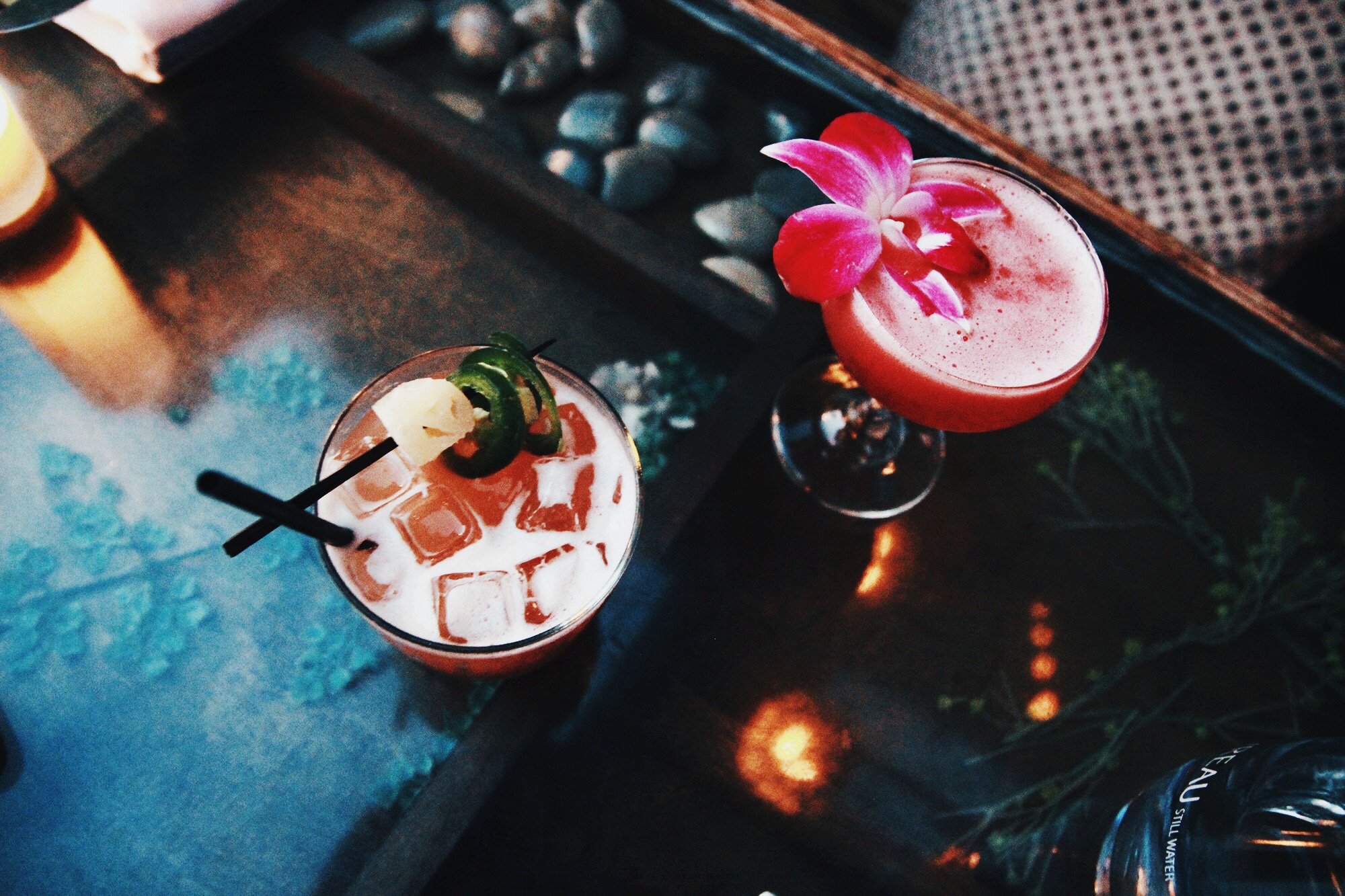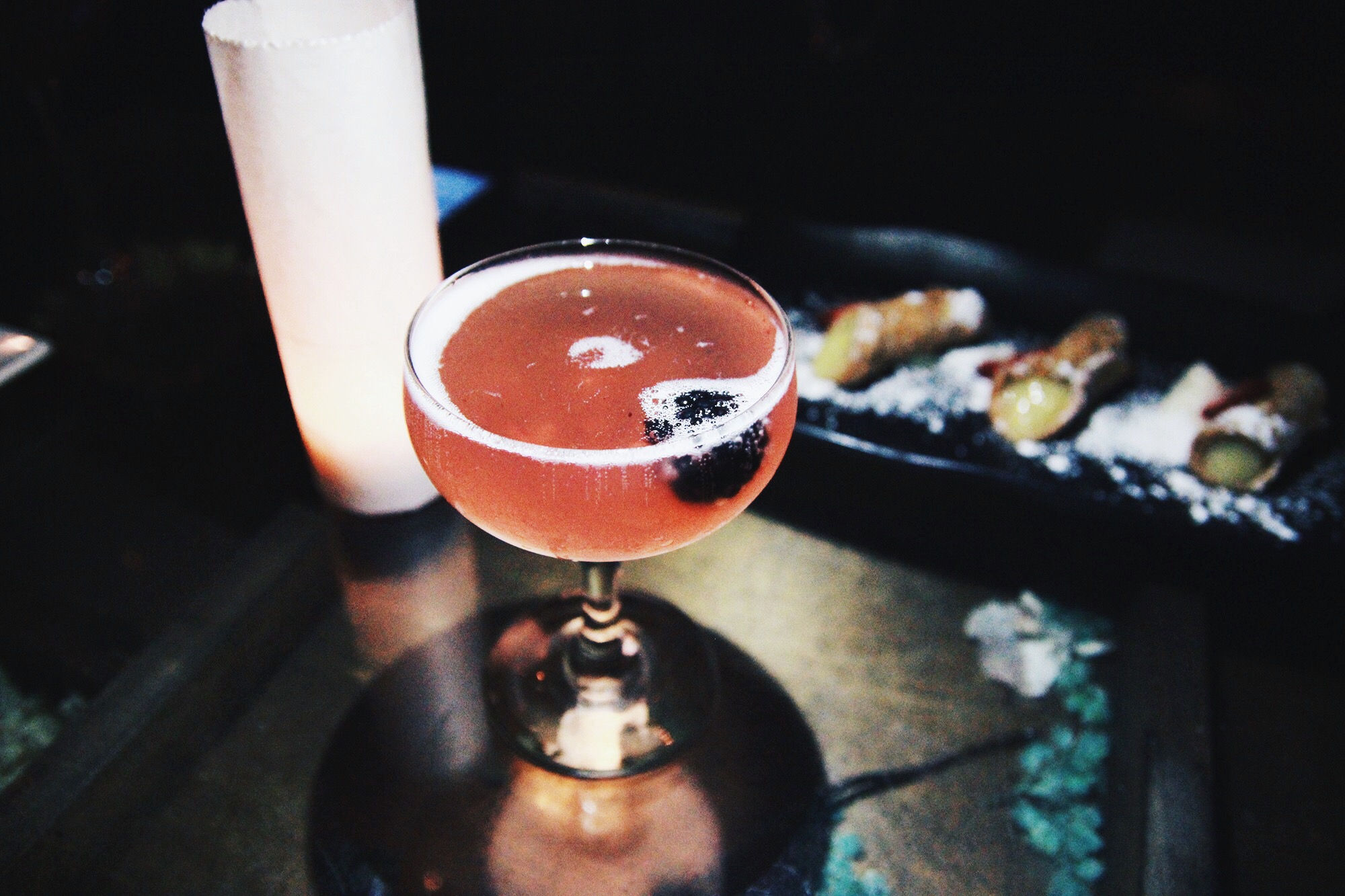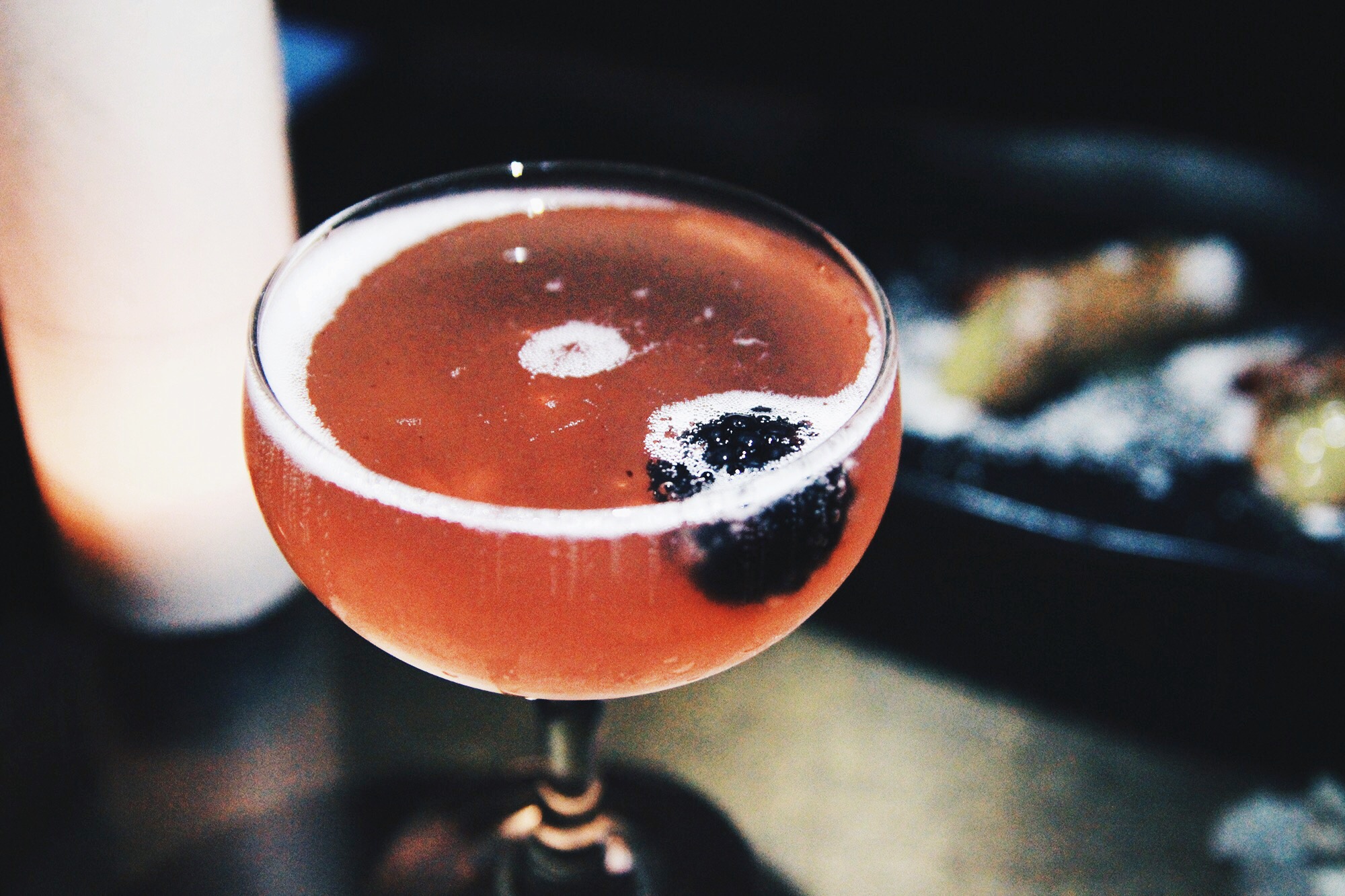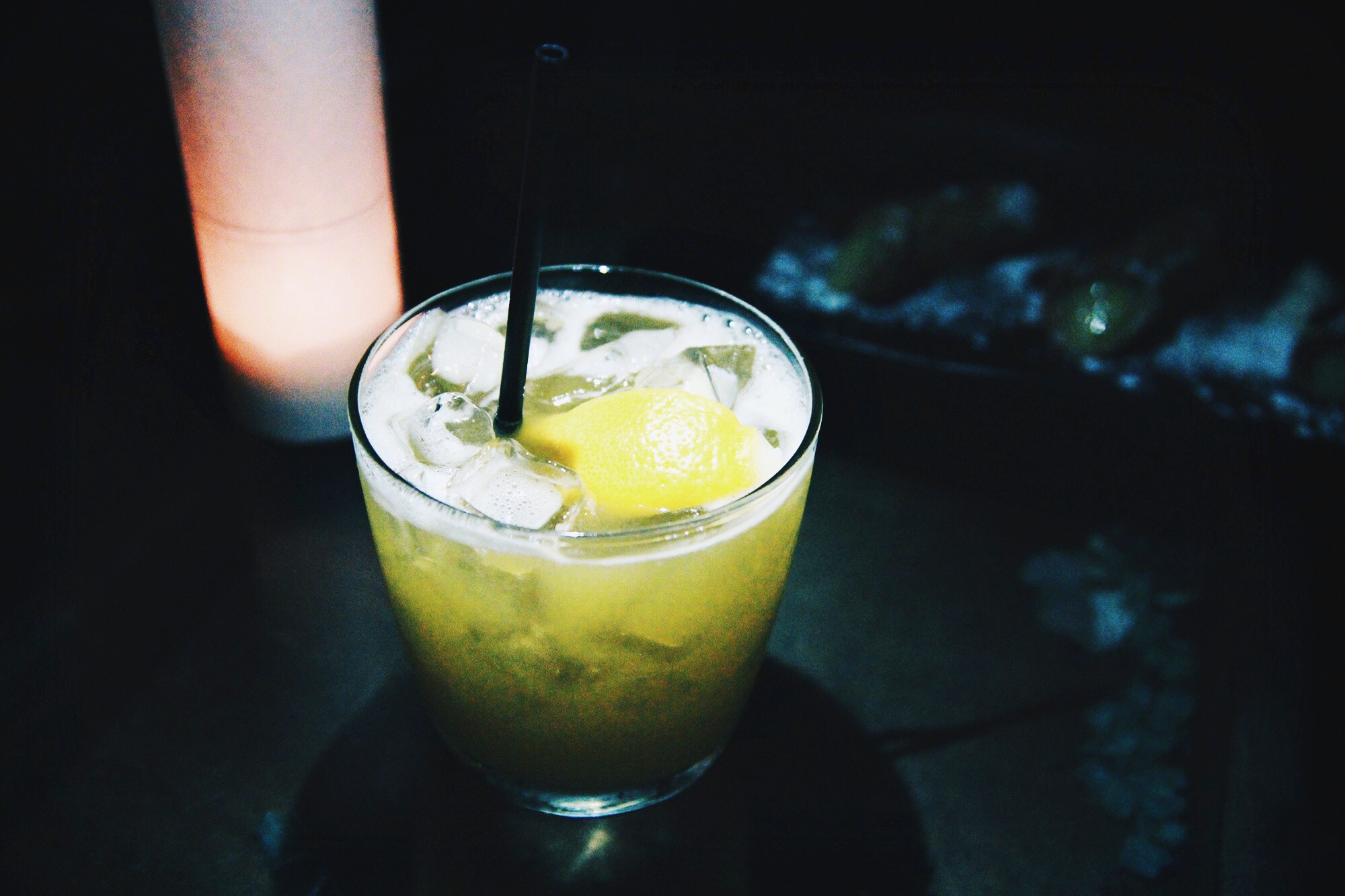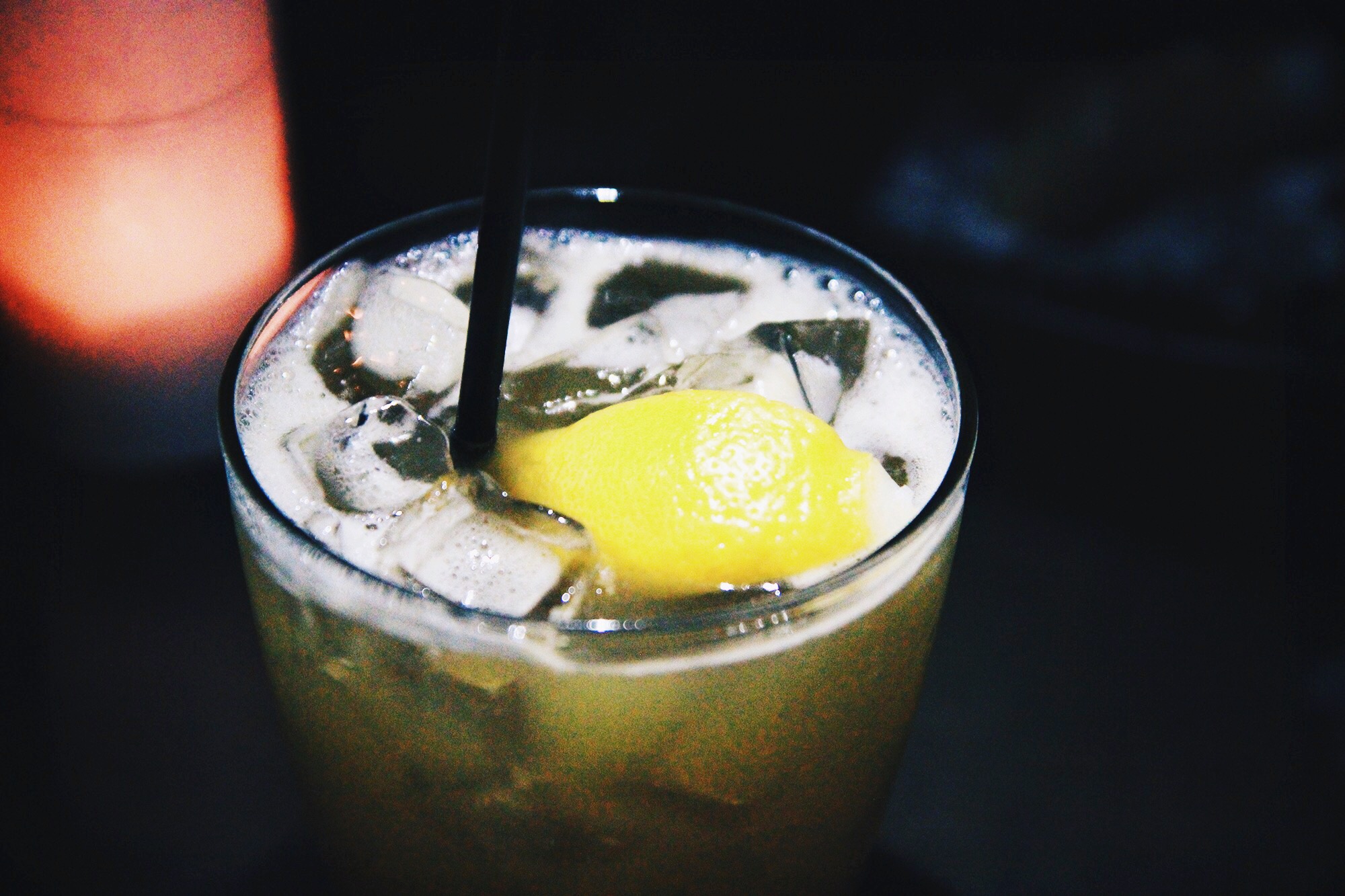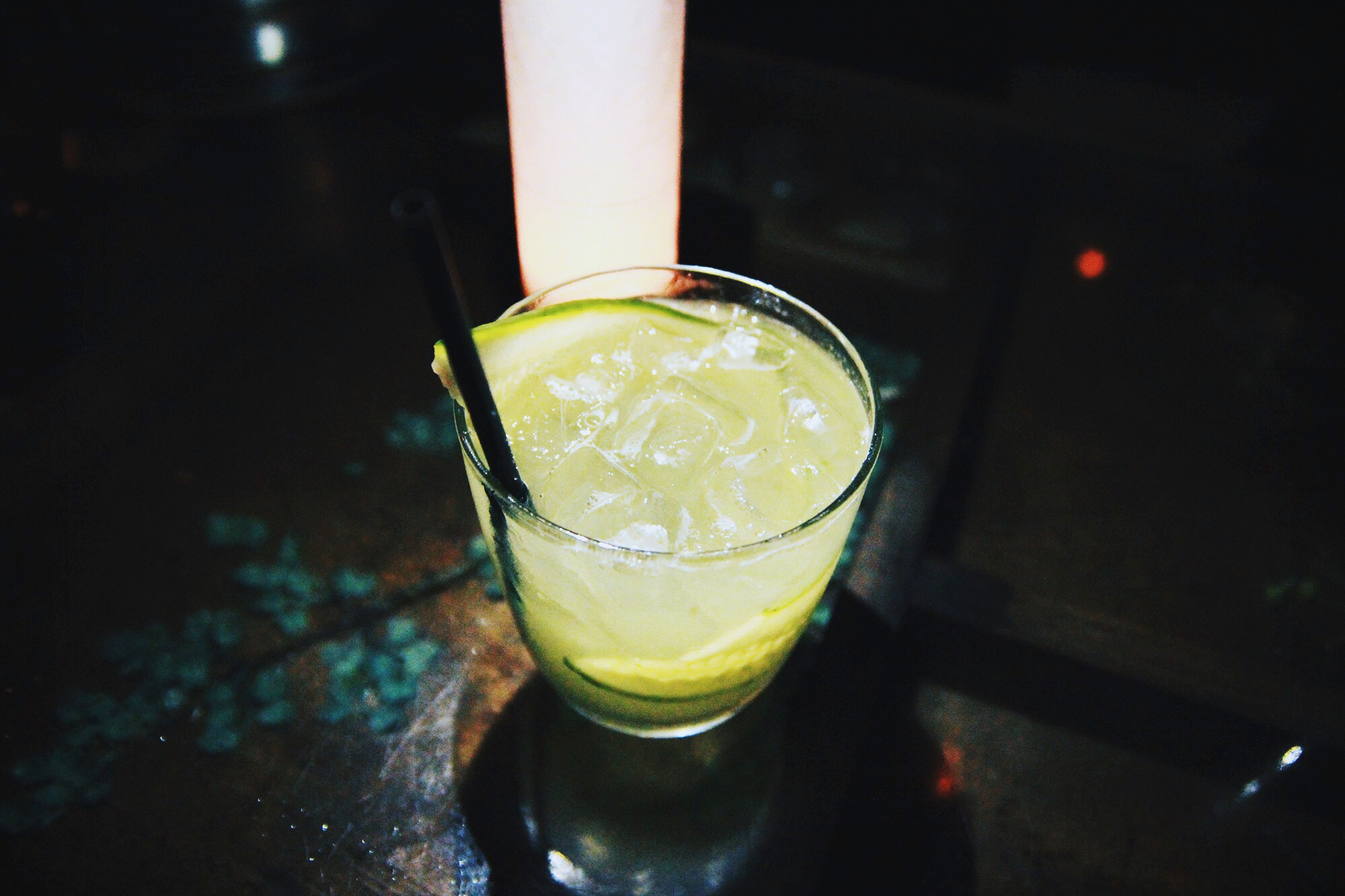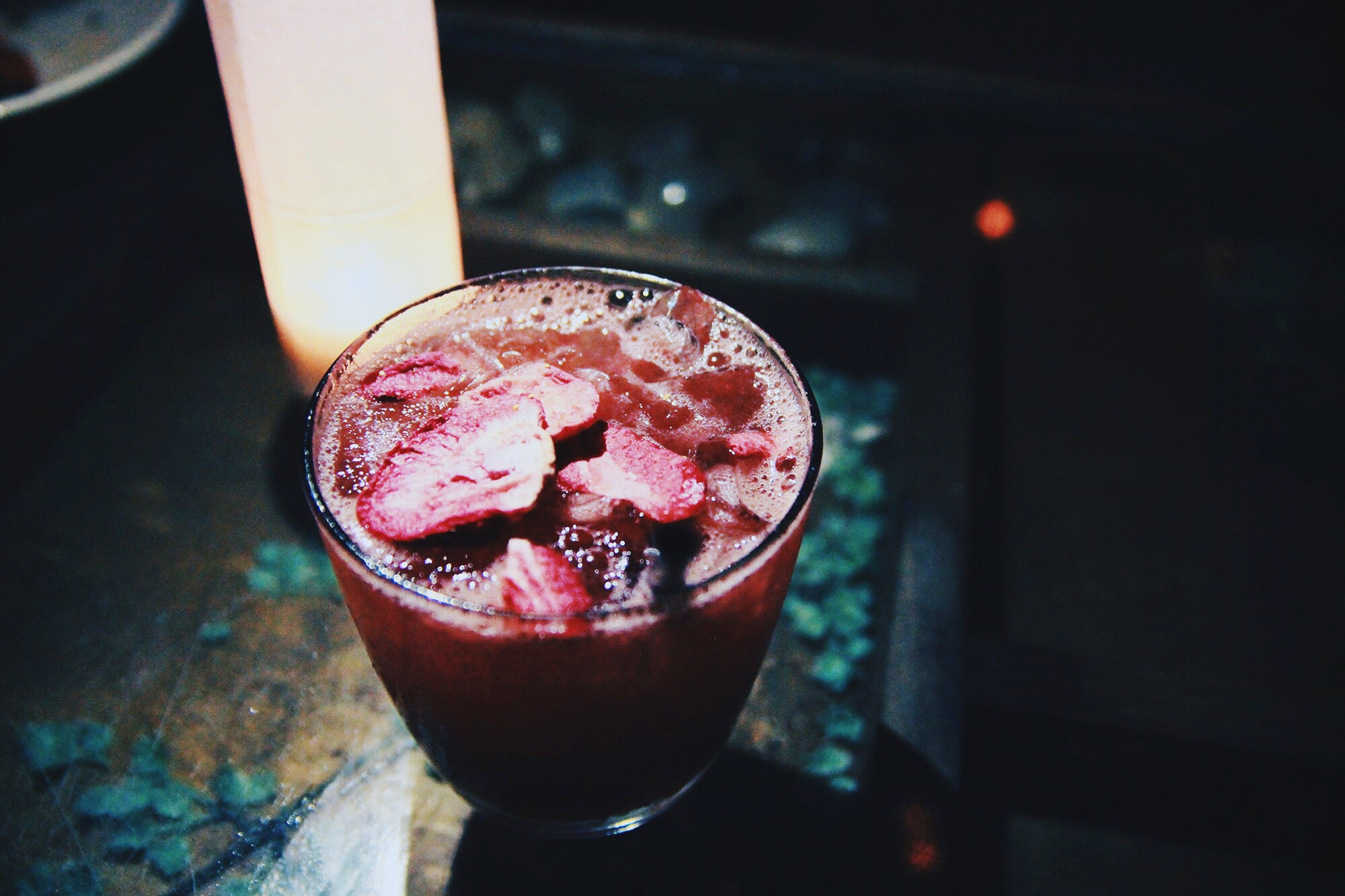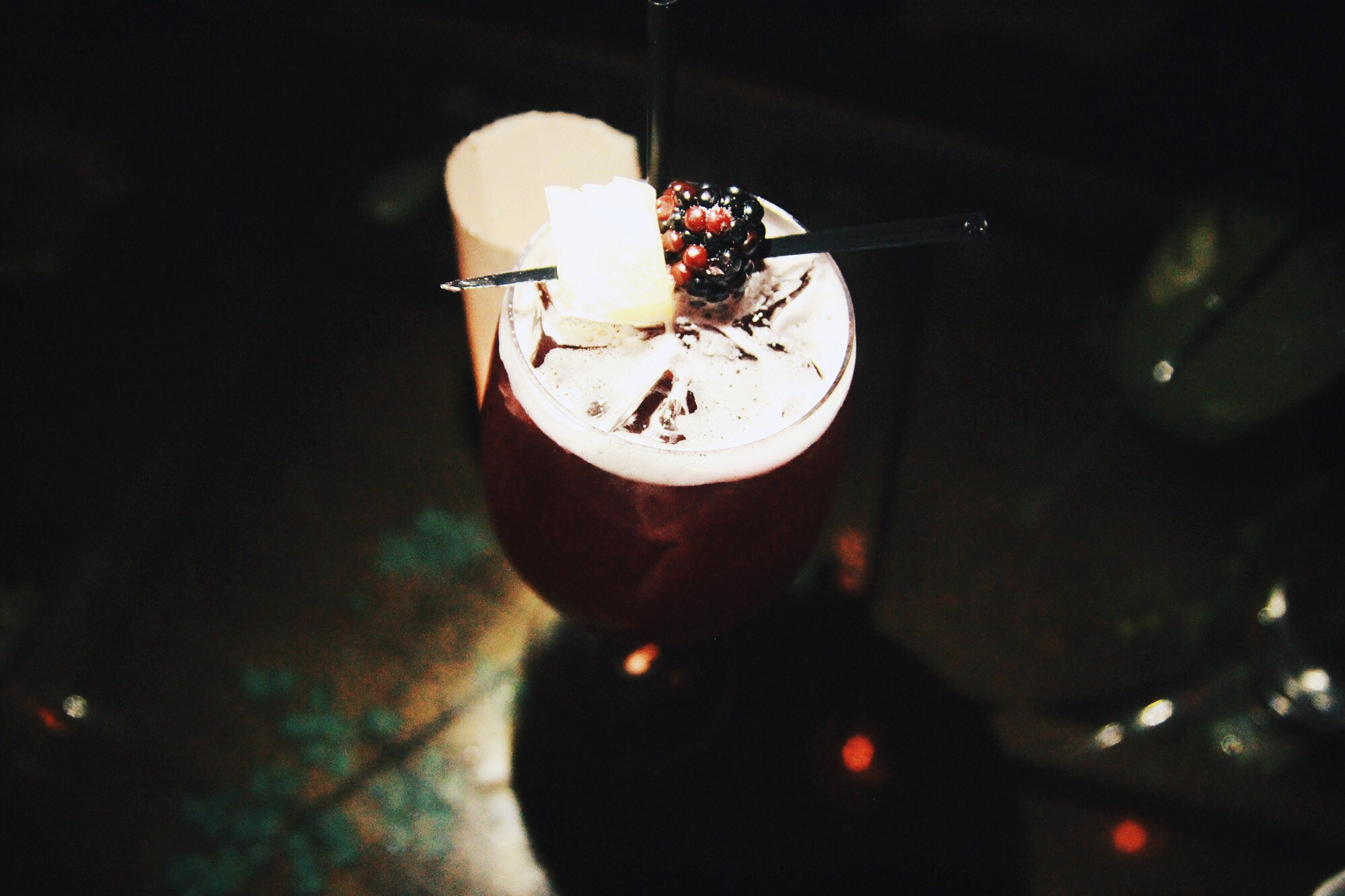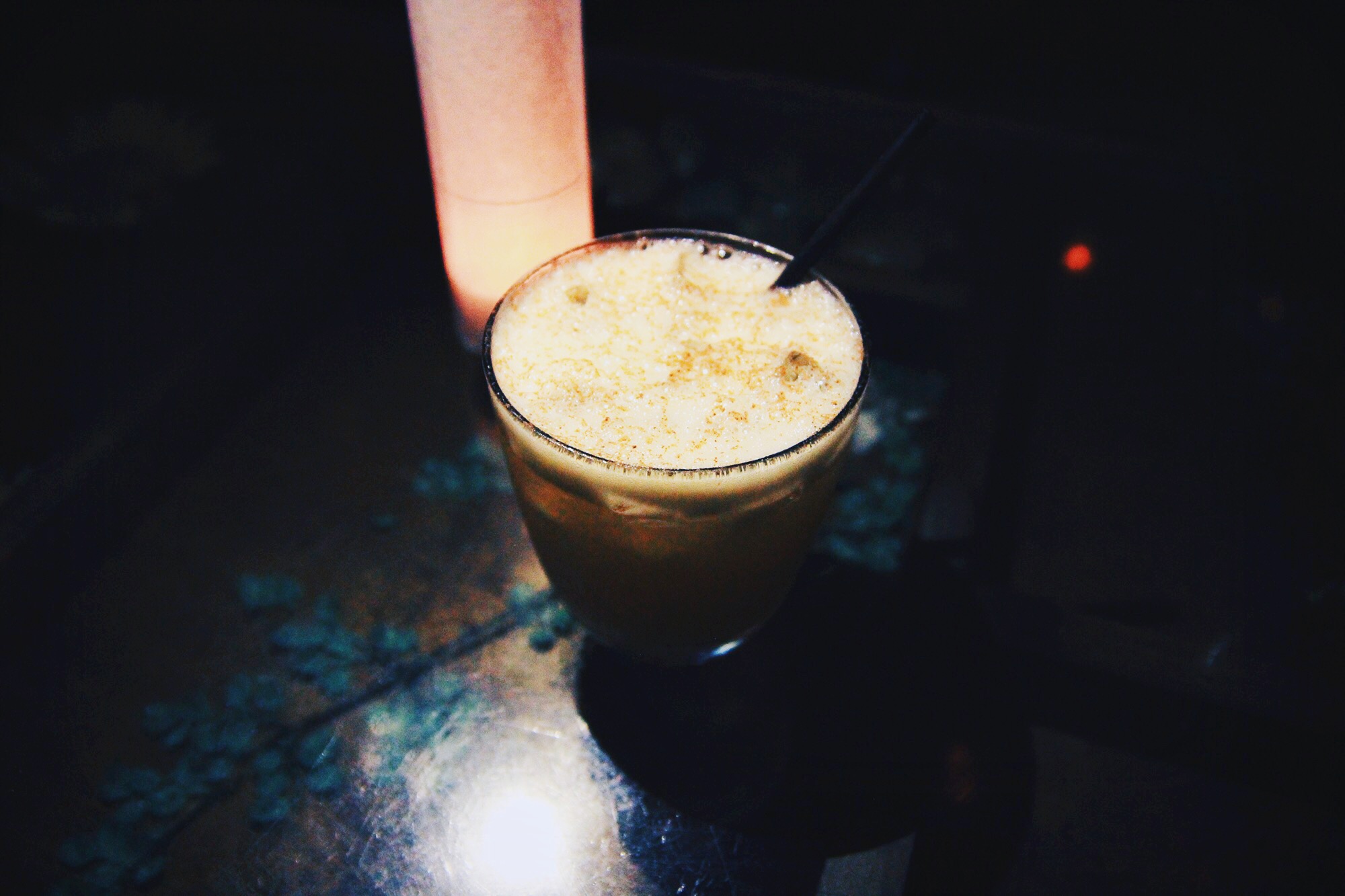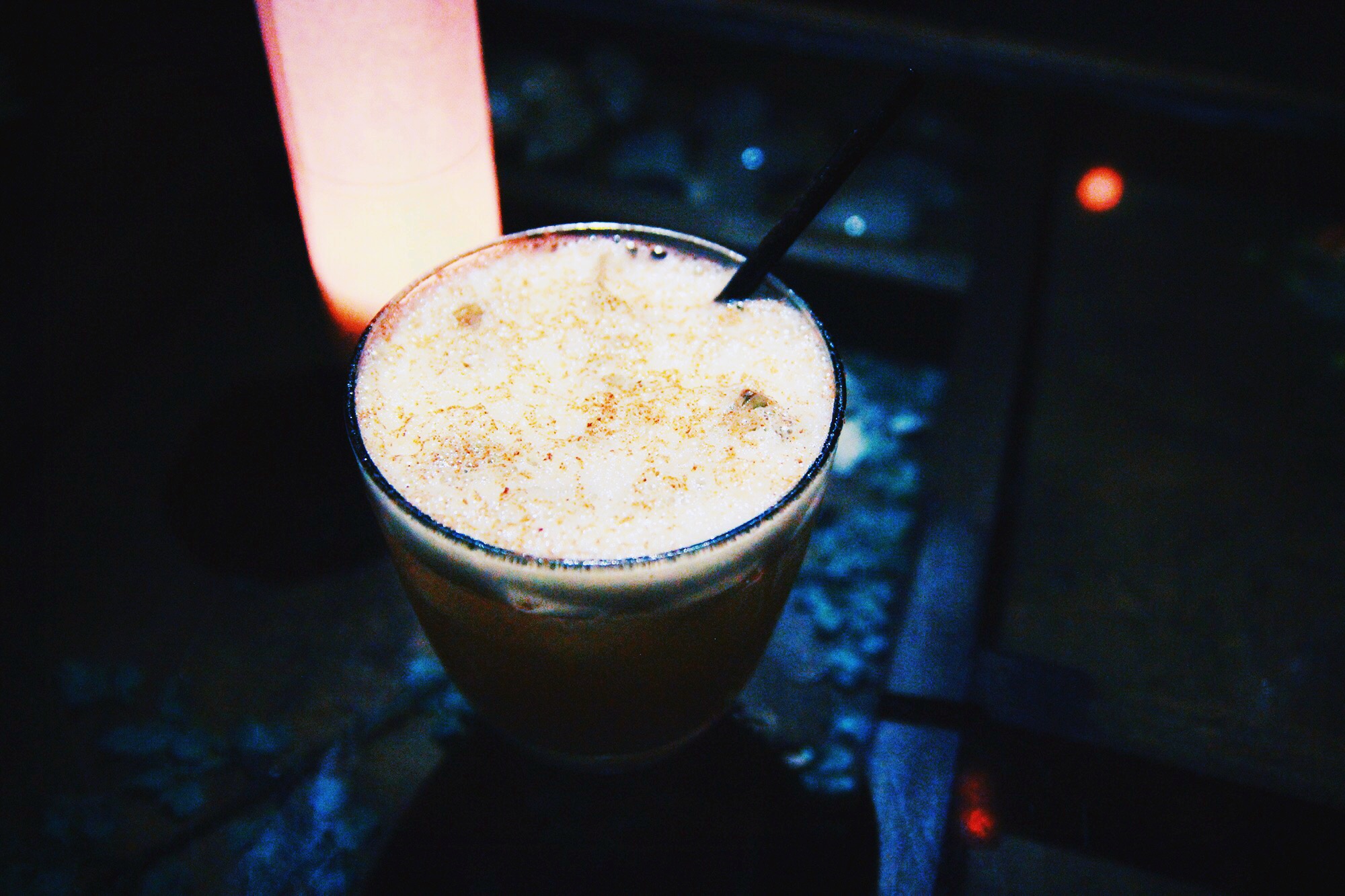 I would rate this restaurant a 10/10 as the service was just as great as the food. I felt very welcomed and accommodated to all my needs. All in all, go for the ambiance (as well as the food and cocktails!) because it is worth the experience. It's a fun and relaxing atmosphere with a beautiful view. Also, on some nights there is a live band playing. I suggest checking out their website for a schedule of events and many other great specials.
I heard that their brunch menu is out of this world. So I will have to come back for that!